Downloading Secrets of the Dark: Mystery of the Ancestral Estate Collector's Edition
100% safe download!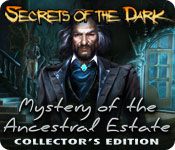 If you have enough courage to challenge the darkness, then you'll manage to find out the mystery of the Rossolimo family.
When you run the downloaded file, it will start the Big Fish Games installer. Big Fish Games is our download provider.