Buy Phenomenon: Meteorite Collector's Edition
Service provided by Big Fish Games!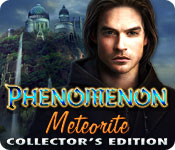 Discover the secrets of your family's past on a mystical island!
Please allow the pop-up which will appear from this window. You will be transported to Big Fish Games, who provides the purchasing service. If you haven't already registered at Big Fish Games, you need to do so in order to buy the game.